The right psychometric assessment and personality test provides a strong foundation for developing future leaders at the workplace, which has become a top priority for CEOs around the world.
Without psychometric testing, it would take many years of working alongside someone to even grasp the full extent of their traits and attributes. Understanding how someone manages their emotions under pressure or works with others when in conflict is invaluable information that you can get right away with the right assessment.
In the past, psychometric testing was primarily used to support executive-level hiring decisions or to match up a potential career choice with a personality.
Now, advances in technology and scientific research have transformed how and why global organizations leverage people data and human analytics to drive performance, fill skills gaps, develop leaders, and manage their most important asset—their employees.
More than 60 percent of organizations worldwide are using assessments as part of their leadership development program, according to the 2014 Global Assessments Trends Report from the Corporate Executive Board.
A psychometric assessment built on testing standards and scientific research will deliver people data not found anywhere else. From there, the real value is in how organizations and leadership teams apply that data in employee learning and development programs, or to align successful personality traits and build high-performing teams.
Unfortunately, assessments are typically done in a stand-alone fashion through one company. Then, to experience all the value psychometric testing has to offer, you have to go through several different companies for different services.
SurePeople Prism: A Holistic Approach
Our approach brings together a fragmented landscape of assessments, human analytics, career development, employee feedback, executive coaching, and the list goes on. We maximize the people data gathered through psychometric testing.
To start, SurePeople's Prism® is a psychometric algorithm built on a set of testing standards collectively developed by the American Educational Research Association (AERA), American Psychological Association (APA) and National Council on Measurement in Education (NCME). It has been proven with scientific validity, reliability and consistency through over 30 years of proprietary research across nearly 50 different nationalities.
For the big picture on the Prism, you can think of it like six different assessments that combine to deliver one complete and comprehensive portrait of a person. Everything from an individual's primary personality and personality under pressure, to motivation and conflict management.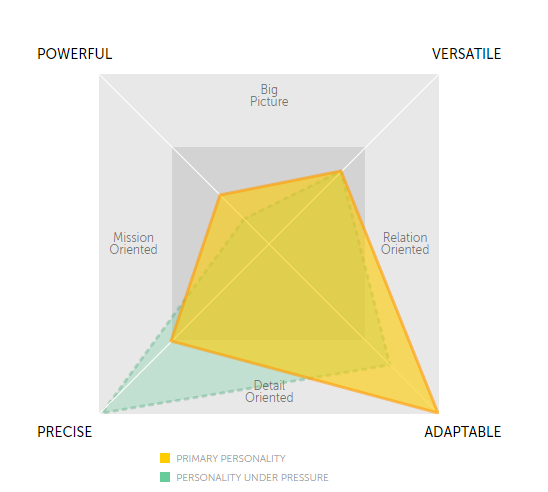 The Prism shows how people think, adapt, learn, collaborate, communicate, problem-solve, and much more. These are all essential people skills (also known as soft skills) that are critical to the success of an employee and a business.
There's a reason why nearly 80 percent of employers say that soft skills are just as important as hard skills, according to a 2014 CareerBuilder survey. Hard skills give people a healthy foundation for their job and specific duties. But, it's the soft skills that can take employees and a business to a much higher level of productivity and performance.
SurePeople's technology solution delivers instant data for a clear understanding of each individual's people skills. The Prism is extremely easy to interpret and immediately makes the data actionable by connecting it to all the talent management applications readily-available in our all-in-one, cloud-based platform.
Connecting and Capitalizing on Data
Stand-alone psychometric testing provides the starting point. But, without the right tools and applications built around all that valuable people data, stand-alone testing is just that—stand-alone.
And what good is great people data without the direction, expertise and simplicity needed to connect and capitalize on it?
What SurePeople has done is create a data-driven solution that innovates and modernizes a fragmented landscape of psychometric testing and talent management solutions for the digital era. We've also taken the people data further than ever before and brought it all into one location with a purpose.
In doing so, it becomes cost-effective, measurable and scalable across an entire organization—from front-line workers to leadership teams.
The Prism is just a starting point that automates a continuous and truly personalized learning and development experience. It's a data-driven plan for building self-awareness and knowledge with over 70 practice areas designed by executive coaches, plus an on-demand multimedia library featuring curated and customized content to support each practice area.
Going even further, SurePeople's suite of applications provide employees with the ability to gather real-time feedback on their development, get coaching tips to strengthen one-on-one relationships at work, help managers build and align the most effective teams, and much more.
Years ago, you would have to use several different companies to do all of this. It would be extremely complicated, hard to track or measure, and nearly impossible to link to business goals.
Not anymore.