How to achieve a broader, deeper and unbiased view of the organizational talent pool for the Future of Healthcare
Executive Summary
Legacy talent management and review strategies increasingly are insufficient for the new world of work and today's relentless pace of disruption.
As a result, many healthcare organizations remain challenged by the complexities of executing three major strategic initiatives: succession planning, talent development and diversity & inclusion (D&I).
Our work with some of the world's leading healthcare organizations confirms that HR leaders who take an interdependent, integrated and forward-looking view of these three initiatives drive better outcomes.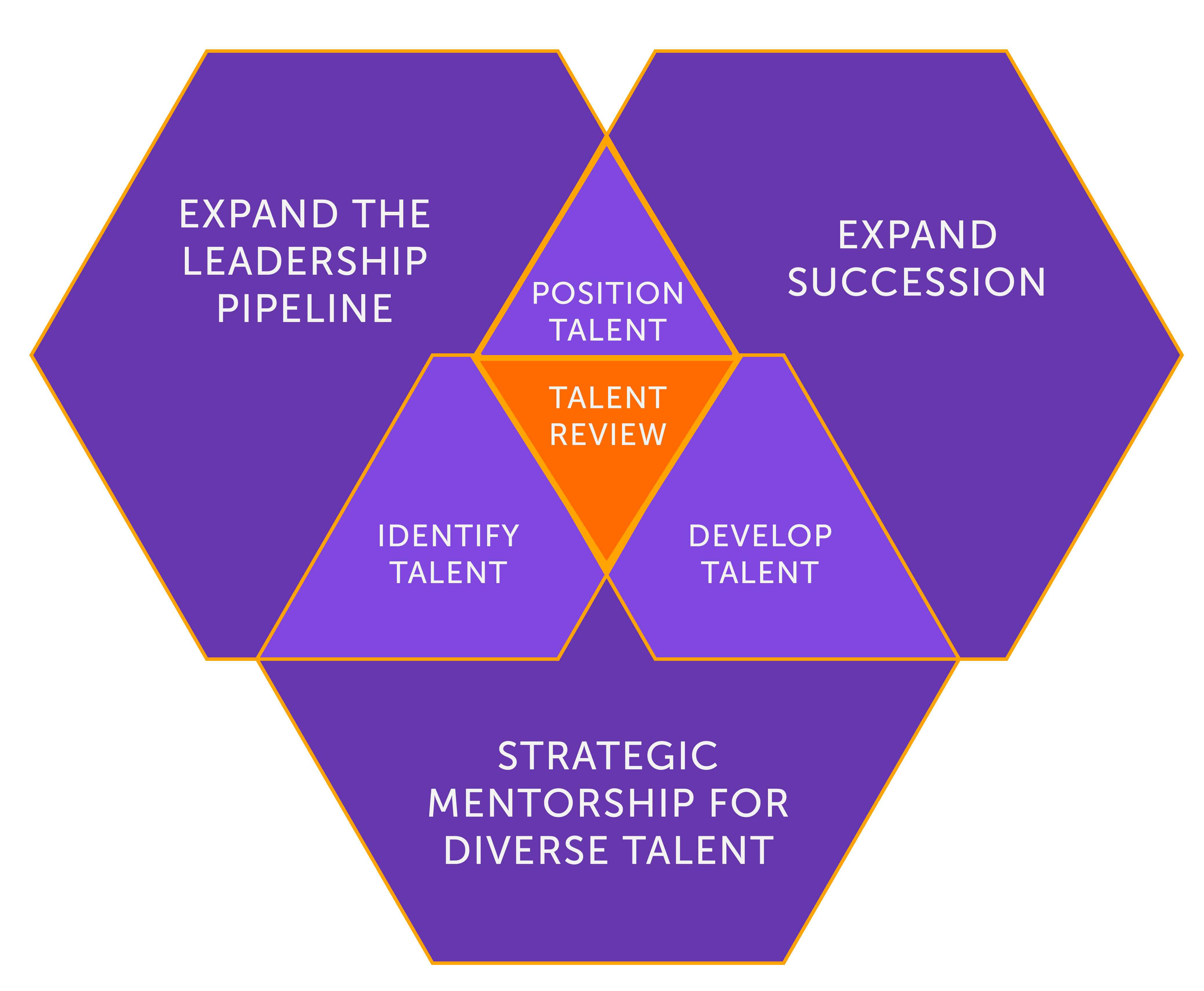 This whitepaper outlines a strategic approach to achieving a broader, deeper and unbiased view of the organizational talent pool for the Future of Healthcare.
The Situation
Our society is in the midst of a significant transformation instigated by the global pandemic, economic strife and the acute visibility of systemic and structural inequity.
This is a strategic moment, where individuals and leaders in organizations and across communities are being challenged to take personal and professional ownership and action to remedy and heal the immense pain and trauma experienced by so many.
Healthcare organizations not only are at the nexus of these converging social, financial and public health variables, they are also contending with numerous macro-challenges:
Dearth of Talent: Even top tier hospitals are struggling to recruit, and many healthcare organizations continue to experience talent shortages and high staff turnover due to factors such as burnout and compound trauma. Additionally, fewer people are pursuing careers in healthcare; more healthcare workers are becoming "free agents"; and technical skill, especially in nursing, is becoming a rare commodity.
Ineffective Legacy Talent Strategies: Many hospitals have been forced to create parallel organizations under one roof: one for COVID-19 operations and another for non-COVID-19 operations, with staffing required for both. As hospitals restructure to prepare for the "long haul," HR leaders need to rethink legacy talent strategies that are insufficient for today and tomorrow's pace of disruption.
The "Power Skills" Deficit: HR industry analyst Josh Bersin correctly observes that soft skills are actually "power skills," because "the skills of the future are not technical, they're behavioral." Developing soft skills requires commitment and effort. In fact, the level of Emotional, Relational and Team intelligence (ERT-i) required of today's healthcare leaders is beyond what people can learn on their own. The ability to manage "doing more with less," while leading a workforce suffering from burnout, depression and compounded trauma, is a monumental "ask" of leaders, who are themselves practitioners, physicians and administrators suffering from many of the same issues.
Learners vs. Knowers: Today, leaders need to create and nurture productive and positive relationships with the diverse communities they serve. In the United States, we find ourselves living in a context where racial, ethnic, political and social discourse is creating a dynamic that requires a "learner's" vs. a "knower's" mindset — the desire and ability to lead with inquiry. This challenge becomes magnified in healthcare environments where "learning" vs. "knowing" is not how most healthcare professionals are conditioned and trained to think and behave.
Managing Virtual Teams: Leaders now face the additional complexity of managing in a way that supports employee recovery, resilience, engagement, productivity and belonging from a distance. Healthcare is an industry that typically runs on fixed schedules with on-site teams and clear routines and protocols. In the context of the pandemic, a new reality of remote work, hybrid work schedules and an ambiguous future has magnified anxiety and insecurity for both leaders – who struggle with how to manage productivity and engagement from afar – and employees, who feel anxious and insecure with the lack of structure. This new reality has been described as, "walking into the woods with a path behind us, and nothing ahead."
Rethinking Talent Strategy
Legacy notions of talent management are insufficient for today's pace of disruption. While organizations typically address succession planning, talent development and diversity & inclusion (D&I) in isolation, HR leaders who take an interdependent, integrated and forward-looking view of these three initiatives – enabled by analytics and technology – drive better outcomes.
Here are some ways to achieve a broader, deeper and unbiased view of the organizational talent pool for the Future of Healthcare.
(1) EXPAND THE DEFINITION OF "LEADERSHIP"
Deloitte Consulting writes, "As organizations implement new ways of operating to enable agility, the shift toward flatter, team-based structures has expanded the role and definition of leaders beyond just hierarchical, positional leadership. Any person moving something forward in an organization – a temporary team, an initiative, an idea – is leading and, in doing so, helping to drive organizational outcomes." (Deloitte Consulting, "2020 Benchmarking Findings: Leadership," June 25, 2020).
Today, leadership is more evenly distributed. It follows that HR should support the assessment, development and growth of all leaders throughout all levels of the organization. Unfortunately, while first-level leaders (i.e. those managing individual contributors) are among the most common leader type and have great impact, they receive a disproportionately small percentage of leadership development budget and staff.
Deloitte concludes, "To grow the leadership talent they'll need for the future, organizations should focus more assets on first-level leaders, emerging leaders and high potentials."
(2) LEVERAGE UNBIASED PSYCHOMETRIC DATA TO IDENTIFY & DEVELOP MORE DIVERSE, HIDDEN TALENT
Next-generation talent reviews for revealing hidden and more diverse talent should leverage unbiased psychometric data.
Capturing this type of unbiased information enables the creation of "ideal portraits" for all levels of leaders. SurePeople's platform – which integrates Prism psychometrics – was designed to automate and scale this process to quickly identify hidden talent and diverse employees for multiple roles and projects, who strongly match the behaviors required for the Future of Healthcare.
What are these empowering leadership behaviors?
A Mayo Clinic study revealed that 10 key leadership behaviors across Emotional, Relational and Team intelligence (ERT-i) mattered most: Know Yourself, Manage Yourself, Act with Empathy, Communicate with Impact, Resolve Conflict, Set Purposeful Direction, Create an Atmosphere of Trust, Exhibit Team Awareness, Coach for Growth & Performance, and Give (and Receive) Actionable Feedback.
Research shows that incremental shifts in these behaviors have a significant impact on reducing burnout, increasing engagement and supporting retention.
These key behaviors are primarily relational, can be assessed and taught and should be infused at all levels of leadership. Even more compelling, was that an incremental improvement in these 10 behaviors had significant impact on burnout and engagement. By improving leaders' scores in the behaviors surveyed by a single point, burnout was reduced by 3.3 percent and engagement increased by 9 percent.
By placing a focus on diverse pools of leaders who are already naturally "wired" toward these empowering behaviors and mobilizing them, organizations can significantly impact near-and next-term transformation.
Simultaneously, because incremental improvement also yields positive results, leaders who are in current role and not "wired" toward these behaviors can improve incrementally and still have a net-positive impact.
(3) STRATEGICALLY USE MENTORSHIP TO SOURCE & DEVELOP DIVERSE LEADERS
"…People live different realities based on their backgrounds and characteristics… in diversified mentoring relationships, when people are open to learning, there is a tremendous potential for them to learn about diversity….this learning can be more effective than diversity training – because it happens in a relationship where people can have dialogue, ask questions and really learn about diversity firsthand (Chandler and Ellis 2011, 491)."
Organizations with formal mentorship programs have 20 percent lower turnover, 46 percent higher leadership quality and fill roles 23 percent more quickly, according to a 2018 joint research study by DDI, The Conference Board and EY.
A scalable, structured, multi-level Mentorship solution will fundamentally shift the leadership culture froma lack of clarity as to why underrepresented groups are not advancing – or are currently invisible in the talent pipeline –to an organization where all talent is leveraged and inclusion is part of the cultural DNA. This creates an experiential shift for underrepresented employees from "this organization accepts/tolerates me" to "I am the culture of this organization."
Why is mentorship such a key lever? SurePeople's partner, Teleos, outlines three primary reasons:
Relationships Matter. When strong collegial relationships are in place up, down and across an organization, they provide a solid framework through which communication and information flows. Unhindered communication, information sharing and collaboration leads to innovative solutions, quicker turnarounds, and lower turnover.
Your "Leadership Culture" is the Key. Human beings are wired to orient to power and to "catch" the emotions of the powerful other. Therefore, a leader's emotions are the most contagious. Positive emotions create more satisfying, collaborative and effective workplaces, while negative emotions create dissonance which erodes relationships and organizational productivity. Leaders impact the emotional environment, relational and organizational norms, therefore their mood, behavior, and beliefs about who is valued and who is not have a profound impact on culture.
Emotions Drive Change. Emotions are powerful drivers of behavior and play a key role in individual and organizational change. When we envision an inclusive, thriving and ideal future for ourselves and our organization, we produce positive emotions such as hope, excitement, joy, compassion and gratitude. These emotions drive us and others towards our ideal future state, broaden our perception of what is possible and create positive and sustainable change.
It's important to note that successful mentorship programs share several common roles, including Proteges (i.e. diverse individuals who have been identified for mentoring and development), Mentors (i.e. leaders who – based on their experience, expertise, role of skills – have been identified as the people who will guide the Protégé) and Sponsors, senior executives with access and influence to the "top of the house" who can support the Protégé's career development path.
In conclusion, the innovative use of unbiased psychometric data sets – and the integration of succession planning, development and mentorship for diversity initiatives – provides a practical, scalable and transformational learning, development and talent optimization path for tomorrow's diverse, disruption-ready leaders.
Author Biographies
Ed Hurley-Wales
Ed Hurley-Wales believes in the power of diversity and inclusion and has moved into consultancy after retiring from ADP as VP of Diversity & Inclusion.
Ed has led Human Resources for many companies through growth, IPO and acquisitions. Prior to ADP, Ed was SVP of HR for Workscape and Applix, preceded by senior HR leadership positions with Duracell, Digital Equipment, Wang Laboratories and Children's Hospital. Ed began his career in HR with the US Navy.
Demetra Anagnostopoulos, SurePeople, EVP, Customer Success
Demetra has more than 25 years of experience in the fields of leadership training and organizational development. Over the years, she has spearheaded programs for companies such as Capital One, F. Hoffman-La Roche, Facebook, GE and PepsiCo.
Before joining SurePeople, Demetra spent over two decades with Interaction Associates, a global consulting firm that is routinely named one of the "Top 20 Leadership Training Companies" by Training Industry magazine.
Bill O'Brien, Ph.D.
Bill O'Brien is a transformation leader and founder of Mission Development Corp., a consulting company specializing in talent and organizational development.
Mission Development has emerged as a leader in aligning individual and organizational capabilities behind a company's vision, values and goals.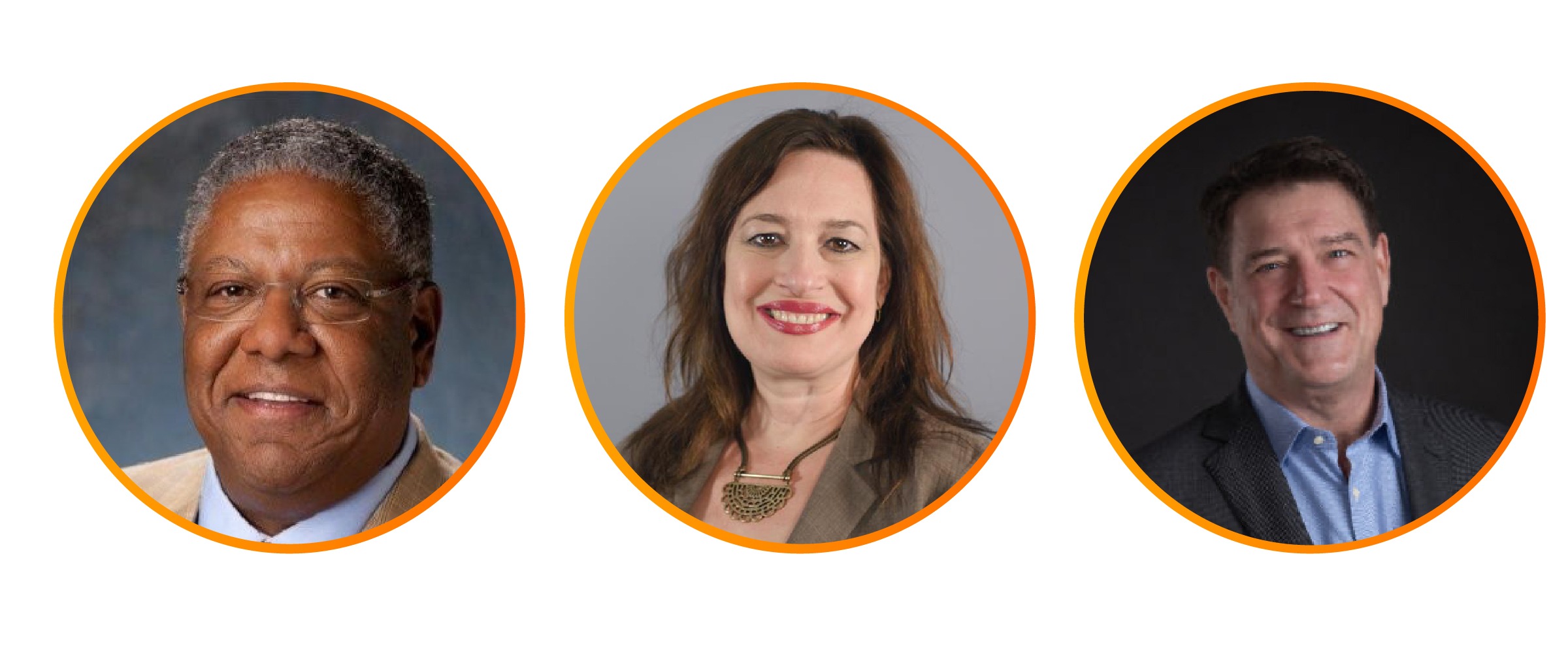 ---