Executive Summary:
Healthcare organizations and their leaders are facing a series of unprecedented crises and challenges.
Some 50 percent of all physicians and nurses are experiencing symptoms of professional burnout, and turnover rates for these professions remain in the double-digits. Additionally, a shortage of more than 120,000 physicians is projected in the next decade.
These challenges are further exacerbated by the ongoing COVID-19 global pandemic, civil & social discourse and a lack of diversity in the leadership ranks.
As a result, healthcare organizations are being forced to transform how they source, develop, engage and retain talent.
By increasing Emotional, Relational and Team intelligence, and developing critical leadership behaviors, organizations are successfully moving from burnout to resilience, from high turnover to retention and from a lack of leader bench strength to higher-quality, more diverse leadership throughout all levels of the organization.
---
Burnout in Healthcare Remains Widespread
It is not news to those in the healthcare profession that burnout has been and continues to be a significant issue. In 2019, the topic of "burnout" was the number one area of concern for healthcare organizations at the National Center for Healthcare Leadership (NCHL) annual leadership conference.
According to national studies, approximately 50 percent of physicians experience symptoms of burnout. A late-2019 Medscape study of 15,000 physicians found burnout rates to be as high as 54 percent for some practices. The report also found that healthcare organizations had the highest overall percentage of professional burnout. Most concerning, the Annals of Emergency Medicine found that 76 percent of emergency medicine residents experienced feelings of burnout in a study cited in the April 5, 2019 edition of Health Leaders.
Burnout is not exclusive to physicians, of course. Professional burnout is
alarmingly prevalent among U.S. nurses, with studies reporting rates of 35–45 percent, according to research published by BMS Nursing in November 2019 titled "A cross-sectional study exploring the relationship between burnout, absenteeism, and job performance among American nurses."
---
Ongoing Turnover and Talent Shortage Challenges
In addition to burnout, the healthcare industry is also dealing with an on-going turnover issue and a growing talent shortage.
Retention is cited as a key strategic imperative for 83.3 percent of hospitals, according to the 2020 NSI National Health Care Retention Report. This is not surprising, given that overall hospital turnover was 17.9 percent in 2019, while turnover for bedside Registered Nurses was 15.9 percent. Turnover for Certified Nursing Assistants was found to be an alarming 26.5 percent.
While turnover trends for physicians are better, they don't paint a favorable picture. Physician turnover was found to be 12 percent overall and 13.3 percent among emergency medicine physicians, according to recent studies.
Additionally, there are other key factors directly impacting healthcare: an increased demand for healthcare services driven by an aging population (by 2035, senior citizens will outnumber children for the first time in U.S. history, according to the Census Bureau); general population growth; and, an escalating range of healthcare ailments such as chronic illnesses (heart disease, diabetes & obesity), along with ailments driven by societal issues (poverty, suicide and drug abuse). As a result, the labor department projects a 58 percent increase in all healthcare roles.
At the same time demand is increasing, however, the supply of physicians completing their residency training remains largely constrained due to the cap Congress placed on federal funding for physician graduate medical education in 1997. In fact, the Association of American Medical Colleges projects a shortage of up to 121,900 physicians by 2032.
The healthcare industry is already feeling the effects of this talent shortage. The vacancy rate is rising from prior years – a 1 percent increase from last year – and the Registered Nurse Recruitment Difficulty Index is at 81 days on average. The time to recruit for Physicians is even more troublesome, ranging from 135 days to 423 days, according to recent studies.
Complicating and amplifying these issues are the events of 2020 – including the global pandemic and societal unrest – driving healthcare organizations to transform how they source, develop and retain talent at all levels of the organization.
---
Traditional Approaches Are Not Working Today
Healthcare organizations have been investing in and deploying a number of approaches to solve these multiple challenges. Most of these initiatives fall short of desired outcomes.
For example, while assessments provide valuable insights, they do not provide organizations with a deeper visibility into an employee's skills, experiences and values.
Further, most assessments are not tied to development resources and development plans. This requires duplication of entry by the employee and is often viewed as a burdensome administrative task versus a developmental activity. Additionally, any value derived is isolated to a given point in time, versus providing ongoing insights that can be accessed and leveraged in the flow of work.
Succession Planning tools are another example. These tools typically provide a view into the top 3-4 levels of leadership, are heavily weighted in subjective data and do not provide visibility to all levels of leaders. People analytics (performance metrics, engagement survey data, 360 feedback data, etc.) are utilized as stand- alone data-points for the individual leader and HR to integrate and synthesize — often at great effort and expense.
This fragmentation of tools and information has limited talent strategy activity to the "top of the house" because both individual leaders and HR perceive the talent review process as heavily administrative, time consuming and not scalable beyond the top layers of leadership.
The radical shift in the world of healthcare work has complicated and amplified the issues that existed prior to 2020. How do all of the factors and trends relate to the role of leadership during and post COVID-19?
---
The Impact of Leadership Behavior on Burnout
Our work with healthcare organizations, along with numerous studies, all point to and provide evidence that burnout, turnover and talent shortage are all linked – and an issue with one will drive an increase in the others.
This post COVID-19 reality requires the ability to look at the challenges as a system driven by root causes. For example, adding benefits in an attempt to retain an employee, will not likely achieve the desired outcome, if the employee's reason for wanting to leave is due to escalating burnout (versus a perception that he/she is lacking certain benefits).
Additionally, there have been numerous studies that have revealed that poor leadership behaviors — and not a lack of technical skills — are a major driver of burnout. For example:
A 2013 Mayo Clinic study of more than 2,800 physicians found that a 1 point increase in leadership behavior score resulted in a 3.3 percent decrease in the rate of burnout and a 9 percent increase in satisfaction.
A study conducted by Stanford of 472 physicians over a two-year period (2013-2015) found that 28 percent of physicians were experiencing burnout (expressed as an intent to leave) and that 13 percent of these physicians actually quit.
A study published in the 2018 Journal of American Medical association (with data from the Cleveland Clinic) found a 2 to 1 ratio between burnout and resigning from one's job.
A study of 95,499 nurses by the University of Pennsylvania School of Nursing found that nurses' assessments of the overall quality of their work environments—including factors such as managerial support for nursing, responsiveness of management, and doctor-nurse relations—were significantly associated not only with burnout and job satisfaction but also with nurses' satisfaction with employee benefits, including salary. This illustrates how the same benefits at two hospitals will be viewed differently based on the individual's level of burnout. This is further evidence that not all investments solve the issue, because they are applied to the symptom of the issue – more benefits, for example – when, in fact, the root-cause driving turnover is burnout.
---
The Leadership Lever
The evidence points to leadership as the single largest lever than can be pulled to impact burnout, turnover, talent shortages and enable transformation in this new world of healthcare.
In our experience working with healthcare organizations, we have found that three dimensions, working in unison, most significantly impact desired outcomes:
1. Focus and develop a smaller universe of leadership behaviors that matter (versus blanket, one-size-fits-all development of soft-skills and uniform development for all).
2. Reframe the way leadership is perceived and defined — shift from leadership as a title or position in the hierarchy to a role/function that individuals can play at all levels of the organization.
3. Rapidly increase speed to development. Ensure the experience is simple and rapid (to avoid a lag between awareness and development, which causes a portion of over-taxed leaders to disengage). Scalable delivery is also required to reach all levels of leaders.
So, what are the leadership skills that matter?
We do not mean the universe of all soft skills. Instead, we recommend focusing on 10 essential skills and behaviors that increase Emotional, Relational and Team intelligence (ERT-i).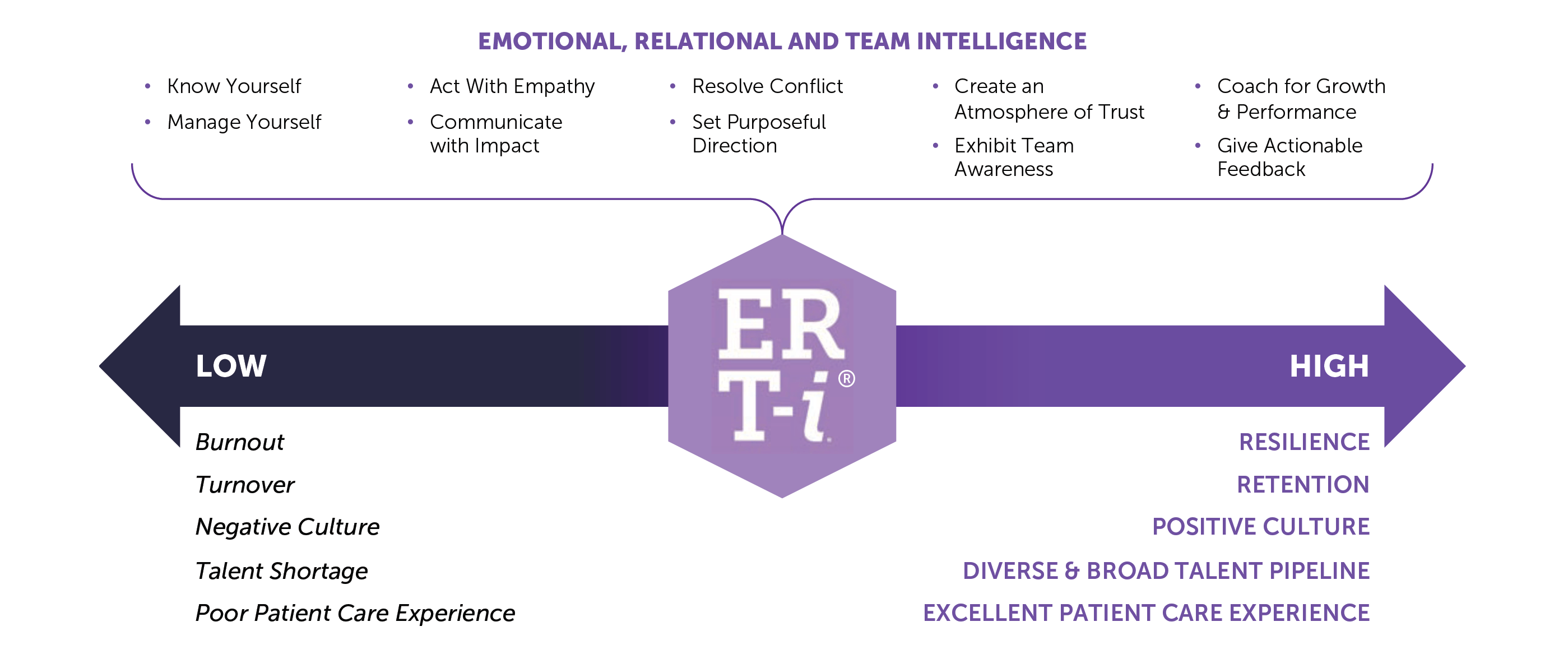 These skills increase one's ability to relate but also the speed at which someone relates to another, i.e., leader to subordinate and vice versa and allow leaders to positively impact team dynamics and culture – which is also cited frequently as the source of dissatisfaction and burnout.
Our experience is that a laser focus on the right universe of skills enables healthcare organizations to move from burnout to resilience, reduce turnover and increase retention, build a stronger culture, develop a broader and more diverse pipeline and improve the overall patient experience.
However, this proposition is about much more than skills training. There is an expression in the learning industry which refers to "sheep-dipping" individuals – that is, rolling out large-scale, generic training sessions across large cohorts of participants with a hypothesis that key learning domains are being addressed, and a hope that some percentage of participants will grow and change. This approach is no longer viable (for all of the reasons mentioned above).
There have been significant improvements in how adult education is delivered. The shift from "learning event" to "learning process" has helped bring learning closer to the integration point with work, but there is still more opportunity to "collapse" individual learning with continuous application.
For example, you may attend a training session and become aware of how you manage conflict. Within that session, you may also learn valuable skills, tools and strategies for managing conflict. This is a great start. However, this does not necessarily equate to effectively resolving a difference with an employee or peer.
What if you could go beyond training and awareness, and take application to a new level?
To truly achieve the desired outcome in our example requires going beyond development and having the right tools that provide you with insights about your employees and peers and that can be easily accessed and leveraged "just-in-time, just-in-need" and in the flow of work to increase effectiveness.
What kind of insights? Insights about the non-obvious things that happen all day long – that we see and experience them but can't name. Things such as how individuals process information, how and why individuals are motivated, how they deal with conflict or make decisions – at a glance. These are the insights that can immediately inform how you approach resolving a difference.
If you are managing a difference of opinion, and you observe that the individual has an "avoiding" strategy, for example, you can adjust your communication style to bring them back into the conversation. It is this type of immediately applicable data that is necessary to increase a person's ability to actualize Emotional, Relational and Team intelligence (ERT-i) within the 'context' of a situation, and specific to the individual.
The opportunity, therefore, is to begin to bring these leadership behaviors (as described above) and capability development beyond senior-level leadership programs, executive education and executive coaching.
Our point of view is that in order to really impact burnout, all levels of leaders in the organization need to be addressed. Not only is this supported by Mayo Clinic studies, which called out physicians' immediate supervisors versus senior leadership, but as the Gallup organization stated years ago, "people join organizations and leave managers."
There is ample evidence to support the point of view that all leaders and their behaviors impact the rate of burnout. The 2020 Medscape National Physician Burnout & Suicide Report highlights that the highest rates of burnout are typically during mid-career. (This correlates to demographic findings that Gen X are experiencing the highest rate of burnout – those leaders reporting to the most senior leaders and or mid-level leaders. In addition, "lack of respect" was in the top three concerns for both millennials and Gen X but — not surprisingly – did not make the top three for boomers).
In order to achieve system wide impact addressing all leaders is necessary, based on the evidence. Addressing all leaders also supports critical aspects of the transformation required for post-COVID-19 healthcare organizations by creating a redefinition of "leadership", empowering all leaders and therefore enabling systemic readiness to manage transformational change — large and small — at all levels.
Improving leadership behaviors for a larger population of leaders will impact a larger population and improve overall culture. This reduces burnout and increases satisfaction, which leads to retention and helps with the talent shortage because you are not losing (already scarce) resources. Finally, because development is anchored in psychometric data — the SurePeople platform integrates Prism psychometrics — this enables and provides unbiased visibility into your talent, enabling you to access hidden, diverse talent and develop your pipeline of future leaders.
To learn how your healthcare organization can reduce burnout, increase resilience and increase the Emotional, Relational and Team intelligence of leaders at all levels, please reach and connect.